Donation request for first Masjid in Kumamoto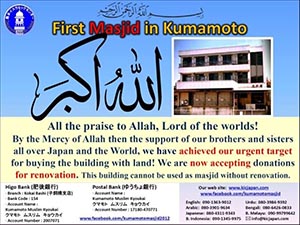 Dear Brothers
Assalamualaikum,
We are going to build the First Masjid in Kumamoto, Japan. In this regard, we have won the auction of a 3 floor building near Kumamoto University, with a total area of land 352.33 m2 and floor total area of 533.52 m2. The location of the building is just 150 m far from the Kurokami campus (Address: 熊本市黒髪5-5-2).
Price of building
The amount of money we need to pay urgently is 24,100,000 yen.
The renovation cost is about 15,000,000 yen. We now asking a reform company to give us official estimation.
Deadline for payment
The deadline for payment of the amount is 1 month (the official letter from the court will be sent to us in coming weeks, where the deadline will be mentioned). So, roughly it will be around 20th of April.
Request for support
I would like to request to support us with this noble purpose. InshaAllah it will be THE FIRST MASJID in Kumamoto.
We need your support to collect the donations as much as possible and send to our account.
Donation account:
1. Higo Bank (肥後銀行)
· Branch : Kokai Bashi (子飼橋支店)
· Bank Code : 154
· Account Name : Kumamoto Muslim Kyoukai
クマモト ムスリム キョウカイ
· Account Number : 2007071
2. Postal Bank (ゆうちょ銀行)
· Account Name : Kumamoto Muslim Kyoukai
クマモト ムスリム キョウカイ
· Account Number : 17180-470771
Please see the attached file – the Flyer for our Campaign.