Islamic Week & Food Festival 2013 (IWFF 2013)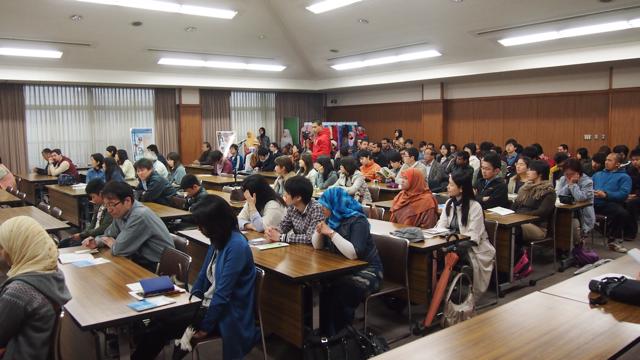 In an attempt to spread the message of Islam, Kyushu University Muslim Student Association (KUMSA) could, Alhamdulillah, successfully arrange the Islamic Week & Food Festival for this year, 2013. This annual event aims to introduce Japanese to Islam and help increase knowledge of non-Muslims to culture of various Muslim countries.
The event started by the 'pre-Islamic week event' at which the Kyushu University stuff and members, who helped KUMSA arrange the event, visited Fukuoka Masjid. A small speech about Islam and the IWFF event was given in both English and Japanese. The visitors also enjoyed some delicious plates from Muslim countries, and they got the chance to try traditional Islamic dresses.
The IWFF 2013 event was held in April, in both Hakuzaki and Ito campuses of Kyushu University as follows:
First: Ito Campus:
Day 1: 2013 .4.15 10:00~15:00
Place: West Building 4, Level 2
Day 2: 2013 .4.16 10:00~15:00
Place: Center Zone, in Front of Lawson.
Second: Hakuzaki Campus:
Day 1 & 2: 2013 .4.17, 18 10:00~15:00
Place: Hakozaki Campus, Central Library.
During the mentioned dates, non-Muslims enjoyed a lot of activities through which they could get to know more about Islam and the culture of Muslim countries. The activities included the following:
Halal food corner: where non-Muslims enjoyed various delicious halal plates from different Muslim countries.
Masjid corner: where Fukuoka Masjid (Al-Nour Islamic Culture Centre) was introduced to non-Muslims and they received various booklets, written in Japanese, talking about Islam and various related topics.
Islamic dress corner: Where non-Muslims were given the chance to try various traditional colorful Islamic dresses.
Calligraphy corner: Where non-Muslims had their names written in Arabic.
A short Quiz: Where non-Muslims were asked to answer a short Quiz that contained simple questions about Muslims and Islam. The Quiz aimed to increase non-Muslims' knowledge about Islam. Winners were given simple gifts.
Many non-Muslims (Japanese and even non-Japanese) joined the event and they looked so excited and eager to know more about Islam.
Food festival & open lecture:
Date: 2013.4.20 10:30~14:00
Place: Hakozaki Campus, International Hall.
It was held as follows:
10:30am:- Al Qur'an Recitation with translation
10:40am:- Opening Speech by KUMSA
10:45am:- Speech by Takamatsu sensei, Advisor of IWFF 2013
10:55am:- Open Lecture by Hamed Shimomura sensei
11:40am:- Q&A
12:00pm:- Islamic entertainment show by bro Chami
12:10pm:- Du'a
12:15pm:- Lunch
13:00pm:- Zuhr Praying
14:00pm:- End of the program.
About Hamed Shimomura sensei:
Real Name: Kazuki Shimumora. (Islamic name is Hamed)
Birth Date: 1975/1/6.
Place of Birth: Tokyo, Japan.
Overview:
He started his oriental studies when he was a student in Toyo University. In 1995, he converted to Islam, and after graduation he continued his study in Syria. After mastering both Arabic language and Islamic sciences' fundamentals, he dedicated himself to diplomatic work in both Japanese embassies in Damascus and Sana'a, where one of his duties was the simultaneous interpretation and translation, especially culture and religion related issues, to Japanese officials visiting Syria or Yemen,
Current Activities/ Concerns:
Translation of Islamic scientific books from Arabic to Japanese.
Teaching and guiding new students interested in Islam or the Arabic language.
Electronic publishing of Islamic articles.
Work Experience:
A special assistant for economic and political issues, Japanese Embassy in Sana'a (2000/7 – 2003/1).
Economic and political attaché, Japanese Embassy in Damascus (2003/3 – 2006/2).
Editor-in-chief for the Japanese website islam.ne.jp that is an Islamic information center (2008/11~).
President of Al-fajr (Reimei) Islamic society that aims for the promotion of Islamic sciences and culture to Japan (2009/3~).
Spoken Languages:
Japanese: Mother tongue.
Arabic: Fluent
English: Very Good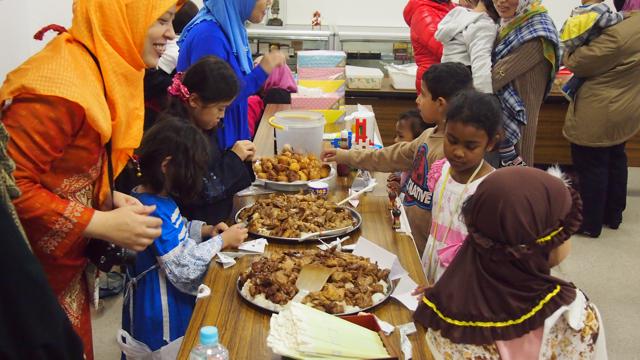 A lot of Japanese non-Muslims attended the open lecture and enjoyed the lunch that included many traditional plates from different cuisines (Egypt, Malaysia, Indonesia, Bangladesh and Japan). The day can be described to be a successful one with about 300 attendees. People gave a positive feedback about the event as a whole.
May Allah help us do what pleases Him and safeguard us against what causes His wrath and punishment… Amen.