Kagoshima Masjid Campaign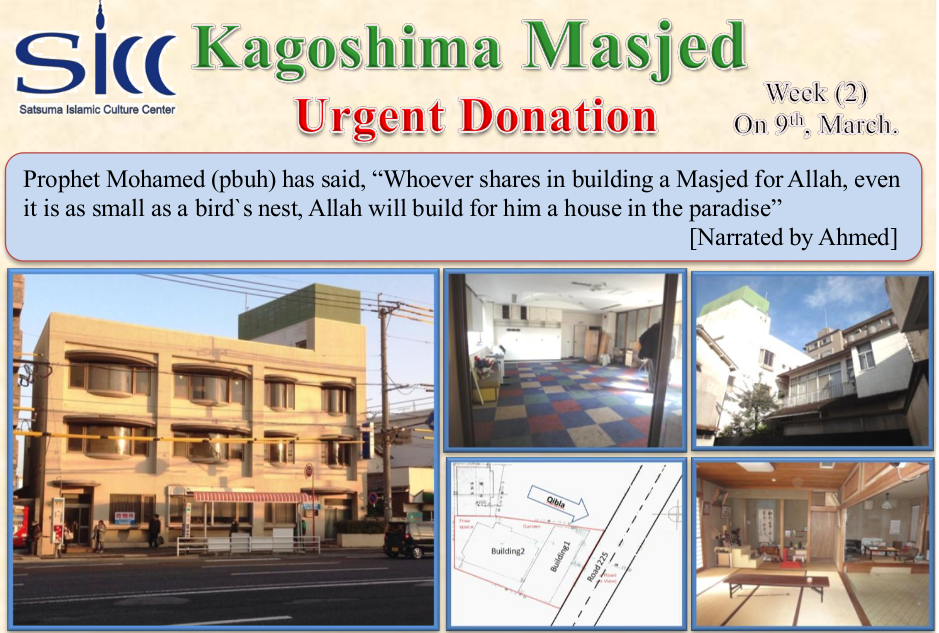 Assallamoalaikum Brothers!
After we have been searching and screening buildings for our Masjed for quite long time of struggle, we just found a very suitable building at road 225, just near Daiei Store and 400 m from Ryugakusei Kaikan. It is 349.7 Sqm land area and 471 Sqm floor area (3-stories hospital plus 2-stories house). Considering the great location, land area, good condition of building, and v good price, it is the most suitable building we ever found so far in Kagoshima. So the Masjed and Shura committees decided to buy it for Kagoshima Masjed and Islamic Center. We signed a primary contract and paid 5 million JPY whereas the deadline for completion of the payment is 19 April 2014. See attached poster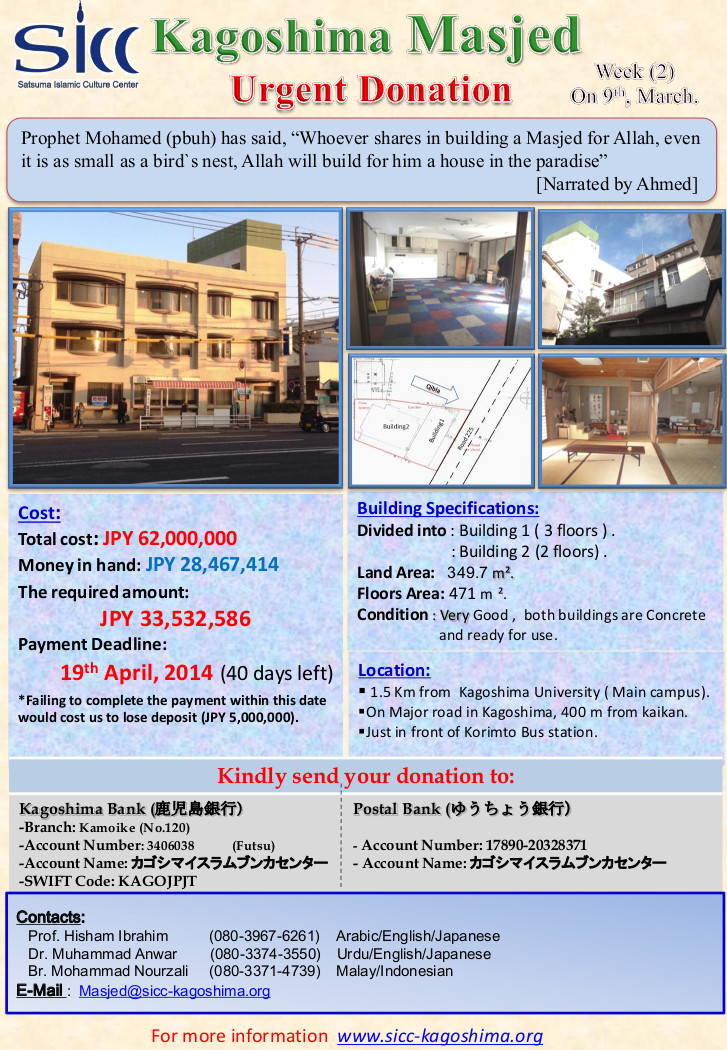 The price of buildings and land is 62 million JPY. After 18 years of our saving locally in Kagoshima, we have now 28.47millions JPY, so we are in urgent need for 33.53million JPY.
Here we would like to humbly appeal every Muslim & Muslimah in japan and abroad:
1) Kindly Donate to build first Masjed in kagoshima. Every single Yen will count.
2) If you can afford travel expenses you may join a group of our Committees to appeal in Masjeds around Japan.
If you wish to join, contact one of following group leaders:
Br. Anwar (Kanto area) Tel. 080-3223-2062 (AU)/080-3374-3550 (SB)
Br. El-Khaiat (Nagoya)
Br. Saqib (Kansai area) 080-3955-8184
Br. Afzal & Iqbal (Kyushu area) 090-8397-4488 (AU)
3) Distribute Masjed appeal poster (attached) to your friends & relatives abroad (out of Japan). Not in Japan unless you seek prior contact with one of the above group leaders (or Br. Nourzali).
If you need poster with specific design or language (for abroad appeal), please contact Br. El-Fiky.
Although we assigned specific brothers for donation mission, just to be organized, we need the effort of everyone of you, in spreading the word now, and when we are to settle the Masjed and Islamic Center.
Allah the Almighty says in surat Muhammad, 38: "Beware! You are called to spend in the way of Allah, yet some among you hoard. But he who hoards does so for himself: Allah is above need, and it is you who are the needy. If you turn away, then Allah will bring other people in your place who will not be like you."
BEST REGARDS
Wassalamu Alaikum