Halal Food Council
Halal Food Council
Al Nour Islamic Center, Fukuoka, Japan Fukuoka-shi, Higashi-ku, Hakozaki 3-2-18, Japan. Tel/Fax: +81-92-6417022. HFC-info@fukuokamsjid.org
The Halal Food Council (HFC) is the official authority responsible for the co-ordination and management of Halal food issues in Japan. The fundamental objectives of the Council are:
It is an independent body working for the pleasure of Allah to promote cooperation and coordination on Halal food affairs in Japan.
It is a body that will base its policies and decisions on the commands of Allah and his prophet (Allah's peace and blessing be upon him).
The Council shall have the supreme authority in all essential matters pertaining to the Halal food affairs in Fukuoka. Besides, the Council shall manage any other Halal issues that concerning the requirements of the Islamic Law inside Japan.
Establishing an official and efficient link with Halal food organizations inside and outside Japan.
The Halal Food Council is the only legal body that represented Fukuoka Masjid and ICCKyu.
Aims of HFC:
Promote the concept of halal foods inside Japan.
Help make halal food readily available throughout Japan, and other countries around the world.
Introduce the concept of halal food to the Japanese food industry.
Provide solutions to consumers regarding issues on halal.
Exchange of expertise on Halal food matters with specialist organizations inside and outside Japan.
Issuing of Halal food certificates based on Islamic Law rulings.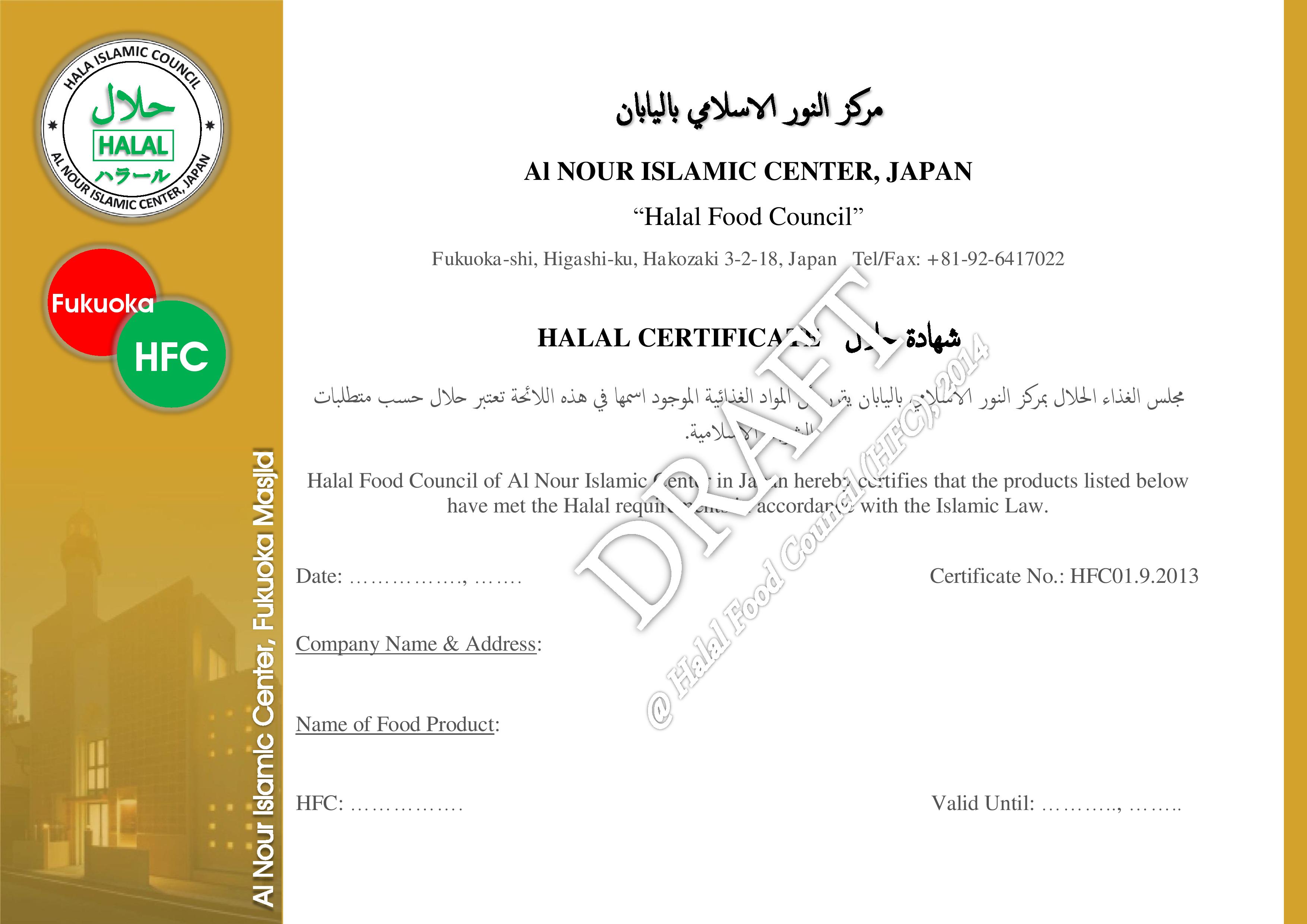 example of the certificate
©Halal Food Council (HFC), 2014